WHAT IS VAMPIRE FACIAL?
Arizona Skin Institute is excited to offer Vampire Facial to Phoenix, AZ men, and women. Vampire Facial is a non-surgical skin treatment that uses a specialized device made of sterile micro-needles to puncture holes in the top layer of the dermis in order to promote natural skin rejuvenation. Platelet-rich plasma (PRP) is then applied to the area to help stimulate healing and new tissue growth. Together, these two procedures can help to significantly reduce the appearance of surface scars, wrinkles, fine lines, age spots, large pores, and other skin issues. Additionally, Vampire facial can help to improve the texture and tone of your skin without the necessary downtime of a surgical procedure. If you'd like to learn more about vampire facial, schedule a one-on-one consultation with seasoned dermatologist Dr. Jay Mehta at our office in Surprise, AZ.

IS VAMPIRE FACIAL RIGHT FOR ME?
You might consider Vampire Facial if you want to improve the aesthetic and texture of your complexion. This treatment is a safe and effective option for those who have oily, dry, or tired-looking skin. It can soften the appearance of unsightly acne scars, subtle wrinkles, sun damage, and hyperpigmentation. The best way to determine whether Vampire Facial is right for you is to schedule a private consultation with Dr. Mehta so that he can perform a comprehensive skin exam and review all of your treatment options. 
VAMPIRE FACIAL AND PLATELET-RICH PLASMA THERAPY
Before the micro-needling portion of your treatment, we'll take a small sample of your blood to make your PRP serum. We'll place the sample in a centrifuge to separate the nutrient-dense plasma from the red blood cells. Then, we'll use a specialized tool to create tiny channels in the top layer of your skin. Once the micro-needling portion of the treatment is complete, we'll apply the PRP serum to your epidermis and allow it to sink in. Once the PRP is fully absorbed, we'll wipe off any excess serum, and you'll be free to go about your day.
NATURAL SKINCARE
Vampire Facial is an innovative procedure that can benefit people looking to restore the youthful appearance and texture of their skin. If you want to attain smoother, healthier skin through a natural approach, contact Arizona Skin Institute in Surprise, AZ, today. We have helped countless men and women in the Greater Phoenix area achieve their cosmetic goals. 
Facial Face Before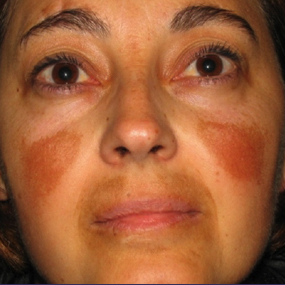 Facial Face After